It's been a I have yet to finish my exciting new jewelry storage.  I currently using my grandmothers' old jewelry box which my grandfather had brought back from overseas for her.  I love it but with the size of some of my jewelry, it can be hard to close.
So I started looking around the web to find inspiration for an easier way to access my jewelry.  There's a lot of stuff that I'm not fitting into the rotation because I've completely forgotten about it.
I've seen a lot of this on the web but was a afraid some of my necklaces might be too hefty.
This is so pretty but my small children would be able to get into it and I'm afraid my necklaces would get coiled up and knotted, which is a current problem.
I like this one from Etsy but I didn't want to take up too much wall space and I have a lot more necklaces than this (it's a borderline problem)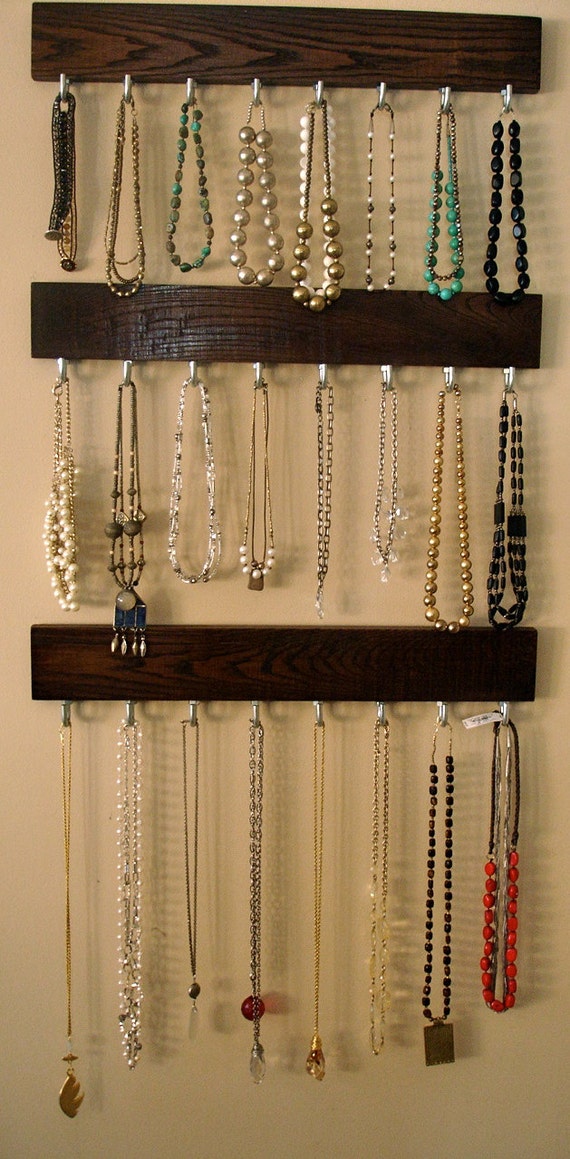 I love the look of this one that she built into an IKEA PAX wardrobe.  My current jewelry box is right on the sink vanity outside of our bathroom, where I also do my hair and makeup.  I love the gray with the gold on the mirror and look at how many necklaces she has on one rack, that's what I'm talking about!  The thing I didn't like was thinking about pre-drilling and screwing in all of those hooks.  At this point, I know I'm on the right track but I need a little more tweaking to get there.
This is a little closer to what I was thinking.  I'm going to keep my earrings in my jewelry box still but I want a double row of bars to hang all my necklaces and bangles from.
All I needed was a 1×2, a wooden dowel, and some hooks to screw into the 1×2 to hold the dowel.  Cut to size to fit on the wall space that I have in my vanity nook, paint and add a little hardware.
I found these at target.
I'll post the tutorial as soon as I find a little bit of time.  Very excited for some jewelry organization!